PORTRAIT ARTIST

SHAYNE WISE ART
PORTRAIT ARTIST
SHAYNE WISE ART
PORTRAIT ARTIST
WELCOME TO SHAYNE WISE ART - UK PORTRAIT ARTIST
I'm a portrait artist based in Essex, UK, creating beautiful bespoke, hand-drawn, realistic portraiture in graphite pencil. I work from photographs supplied by you to provide custom art pieces completely to your specification. I feel lucky to have completed commissioned artwork for clients not only from the UK, but worldwide too.
THE PROCESS IN CREATING YOUR PORTRAIT
Your portrait can be taken from a single photograph, or multiple photographs if needed, to help bring your ideas to life, and it is even possible to make small alterations if required.
I love creating those silky smooth skin blends, realistic waves of hair, and detailed characteristics of the skin, which all help to produce a photo like finish to your commission. To achieve this look, it not only requires expert technical ability, but also a deep understanding of materials, patience, and time. I spend hours upon hours delicately layering, smoothing, and blending... I apply soft tonal values and lift minuscule imperfections, over and over, until I achieve a smooth, balanced, realistic finish. This process can take many days to complete and requires great attention to detail. If this finish excites you too, please come say hi :)
I can't wait to hear your ideas so please do get in touch.
Client Feedback
"I cannot recommend Shayne enough as a portrait artist. Shayne was professional and prompt from the outset, really caring and attentive to what I wanted to achieve. Fully reassured me throughout the process with lots of discussion and a draft portrait, not only that, the turnaround time was amazing, the portrait was beautifully packaged and his service as a whole was brilliant. The portrait itself is exactly what I wanted, Shayne is so talented. The portrait will be displayed in our home as a very valued piece. Put your trust in Shayne and you will not be disappointed! Thank you Shayne!"

Frankie M. London
Shayne is an amazing artist and so easy to work with. Had a portrait done of myself and hubby collated from two different photos and you would never know! The portrait looks better than the photos... Now I'm back a second time for a very special commission and I asked for it at such short notice for Christmas, but Shayne being such an amazing person is making it happen. I'm very grateful and couldn't recommend Shayne highly enough 😊

Lisa B. Essex
Beyond impressed with my A2 and A4 commission pieces from Shayne. It was only two weeks between me messaging Shayne, telling him what I was after and the pieces being ready to collect. He kept me updated through-out with photos of his progress and telling me what he was going to do next. The pieces themselves are phenomenal, I've never seen drawings look so realistic. He even packaged them in a beautiful presentation, ready to be gifted. They really are wonderful. Shayne is fantastic at what he does and I couldn't recommend him enough. Thank you, Shayne xx

Georgina H. Essex
"I'm over the moon with my drawing from Shayne. My mum absolutely loves it. He created several mock-ups for me so I could see some different layouts and choose my favourite, and was very responsive if I had a question. All in all a fantastic service. I will definitely use him again"

Suzanne S. UK
"A beautiful and cherished piece of work. Shayne was beyond accommodating and created a stunning piece that managed to capture the features and personalities of my family"

Megan. Scotland
"Shayne has brought a memory of our nan to real life with this amazing picture! I recommend his work 100%. To have such a combination of family put together in such a personal way, has touched us. Thank you Shayne"

Danny W. UK
"I commissioned Shayne to draw my parents with all their grandkids for Fathers Day. 6 faces and he caught everyones likeness perfectly! Thanks so much :)"

Cassie B. UK
"Beyond amazed, grateful,and overwhelmed by how incredible this drawing is. My entire family are utterly gobssmacked and we are so thankful to have it to treasure forever.

@shaynewiseart what an unbelievable talent you are!"

Jess H. Essex
"I just want to thank you. I have just received my drawing, I'ts absolutely fantastic! Feeling very emotional, I will leave my review 100%. Thanks again."

Mandy. Yorkshire
COMMISSION EXAMPLES
For as long as I can remember, I've had a love of drawing portraits. I can get completely lost in the whole process, where hours seem to just disappear. I absolutely love creating those smooth skin blends, to try and make the finished effect as realistic as possible, and then bring the whole piece together with the hair.
Below are just a few examples of what I offer. If you would like any other subject drawn in graphite, please do not hesitate to contact me!
SINGLE OR COUPLE PORTRAIT
What better way to surprise your loved ones this year than with a personalised gift, by way of a hand crafted portrait. We can create a single portrait, for example, of just your partner by themselves, or we can draw the both of you together.
Find Out More Here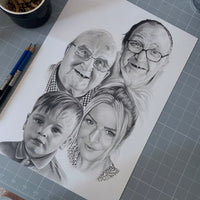 FAMILY PORTRAIT
I absolutely love looking through family photographs and finding the best references to use, to create a family portrait. I feel this is where we really can create something special. It gives you the ability to choose literally all your favourite pictures, of all your favourite people, and bring them together to make the most fantastic keepsake.
Find out more here
CHILD/BABY PORTRAIT
We can draw like for like from a cherished photograph, or make adjustments to a photo during the process. If you have a photo that you particularly love, but there are certain images around the subject that you wished wasn't there, we can change them for you.
Find Out more here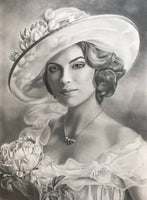 WEDDING PORTRAIT
One of the reasons I get excited about this type of portrait is that so often, the images that surround this occasion are full of love, joy, and happiness, and so provide so much expression that it's actually quite tangible.
FIND OUT MORE HERE
PET PORTRAIT
If you have old photos of loved pets that have sadly passed, or if you have several pets and you would like to bring them all together to create a beautiful keepsake, it is totally possible to do. Please do get in touch as I'd love to see them all.
Find out more here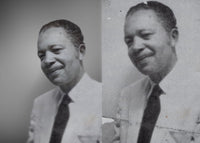 PHOTO RESTORATION SERVICE
Photo restoration can be very effective, and takes a fraction of the time compared to commissioning a drawing, so therefore is more budget friendly. This type of work is something that I'm eager to do more of as I love the digital process of creating something fresh for the client. To be able to give a tattered old photo a new lease of life is extremely exciting. If commissioning a drawing is beyond your budget at this time then please do message me for a quote.
Find out more here
ORDERING PROCESS
Please first make contact with me to discuss your ideas, at which point I will be able to take a look at your photos and advise on the image quality needed to achieve the best result for you. At this point, along with image quality we'll also be able to discuss layout, background, and any alterations that you would like. Once we agree on the best way forward and you're 100% happy with your design, it will possible for you to purchase your artwork in the prices section on this website. Once full payment has been received, I will add you to the waiting list.
During the following week, I will design a mock up for you. This will provide you with a visual representation of what your finished portrait will look like. Once you confirm that the composition/layout matches your ideas, and you are happy to proceed, I will prepare to start work on it.
It normally takes between 2/3 weeks for your art to arrive, however this is dependant on work load at the time. I will be able to give you a more realistic delivery date once I receive your enquiry. I will also keep you updated during the whole process with work in progress shots.
I'm excited to work with you and I can't wait to hear your ideas!
Delivery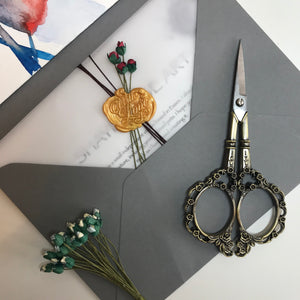 Delivery is fully insured and trackable. International clients please be mindful that customs import charges are not included
UK - £15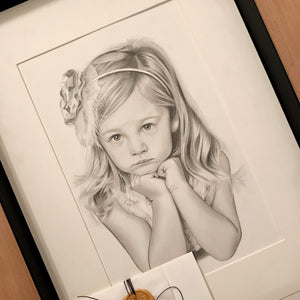 All commissions will be either double wrapped and protected between MDF sheets, or tubed, for maximum protection!
Europe - £25
Read Packaging Blog
Please let me know if you would like me to include a hand written note with your commission. Free of charge!
Rest of World - £40